---
The 2-4 Unit Building Market
Focusing on San Francisco, Alameda 
Compass January 2019 Report
Economic, political and even environmental volatility were powerful factors in 2018, and promise to continue in 2019: There are a lot of spinning plates right now – locally, nationally and internationally – with the potential for both positive and negative impacts on local housing markets. Generally speaking, last year was a strong one in Bay Area real estate, but varied between a hotter first half and a somewhat cooler second. Our next significant indicators of market direction will probably come with the start of the spring selling season.
Values & Trends in Values
Selected Market Indicators
Some of the charts below illustrate annual trends for longer-term context, while others track by quarter to reflect more recent developments, as well as seasonal fluctuations in the market. As in the general residential market, there have been some indications of softening in the last 2 quarters.
Sales Breakdown Overviews
What is being measured and who is doing the measuring varies in the following charts. Some reflect median list rents for 5+ unit buildings, while others reflect weighted average asking rents for 50+ unit buildings. There is no definitive resource for tracking what rents are actually being paid for which units, and there is not a reliable resource specifically for Bay Area rents in 2-4 unit buildings. Numbers will disagree between differing measurements. What is important in these charts are the sense of general values and trends over time. How they apply to any particular unit is unknown.
This chart going back to 1994 gives more context to the ebb and flow of rental rates over time. Rents are extremely sensitive to changes in general economic conditions.
This next chart is a very approximate calculation of the impact of SF rent control on rental income over time as compared to market rents. It adds up to a substantial amount of money for both landlords and tenants – which is why rent control is such a large, continuing political issue, especially in cities like SF and Oakland, with majority tenant populations.
Employment growth – in many cases of very well paid jobs – has continued around the Bay Area. This, of course, is a huge factor in its housing markets.
Migration: On a domestic basis, more people are leaving the Bay Area to go to other metro areas in the country than are arriving from other metro areas, and housing affordability and tax issues are widely cited as big reasons. However, foreign immigration tips the scale, for the time being, to continued, if slowing, population growth. The latest census data does not yet reflect changes that may have occurred since the anti-immigration position of the Trump administration has come into play. (About 35% of Bay Area residents were born in a foreign country.)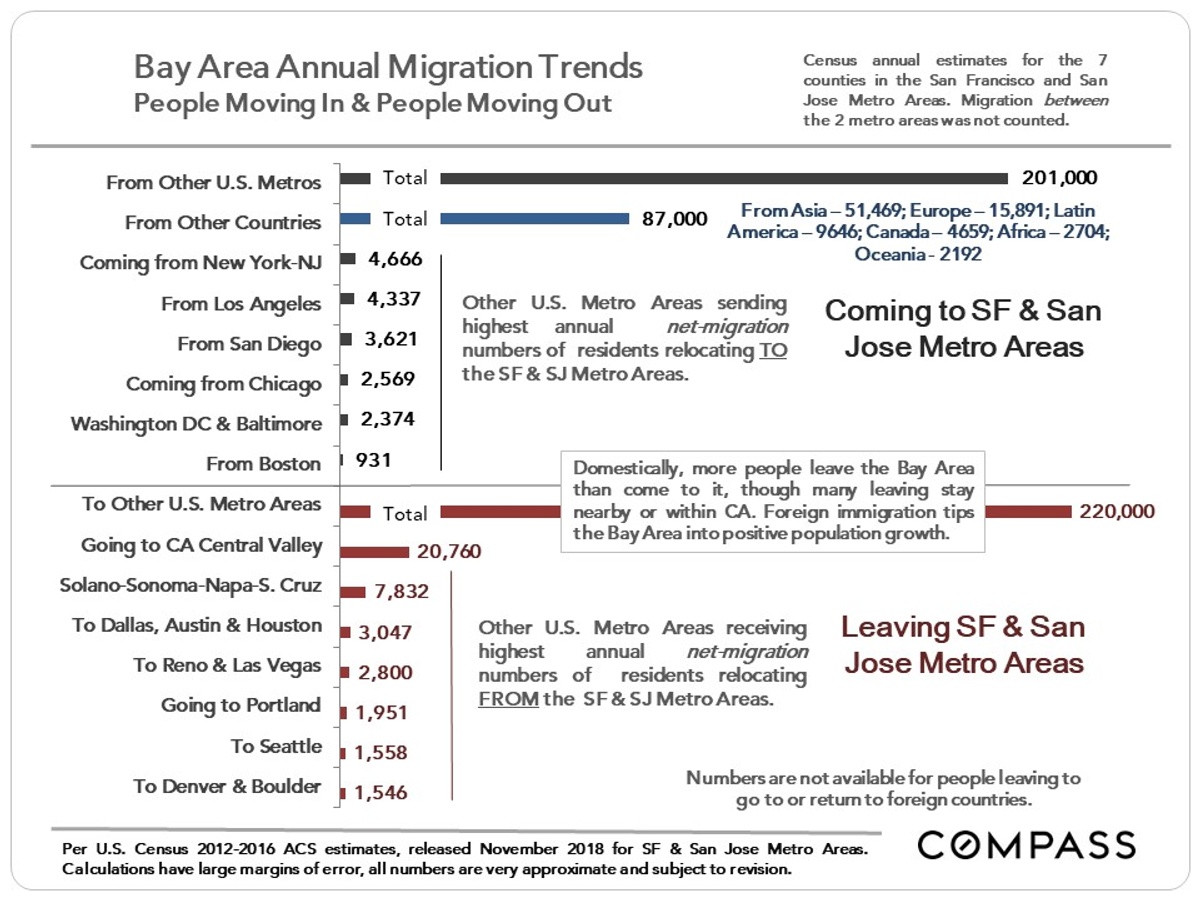 There are over 70,000 new housing units in the San Francisco pipeline, and Oakland's pipeline has been swelling rapidly as well. However, anecdotally, the word is that developers are quickly pulling back in SF due to increasing land, labor and affordable-housing costs, as well, perhaps, to increasing economic uncertainty. For existing landlords, that would mean less new supply coming on market and less competition for tenants from new apartment projects.
After climbing significantly through November, interest rates have been dropping since then, through the first week of January. However, rates are still much higher than the lows seen in the last few years, and predicting what will happen in the near future is very difficult indeed.

With the mergers this past year of Paragon Commercial and Pacific Union Commercial into Compass, Compass has become, far and away, the dominant brokerage in the multi-unit residential market.
© Compass 2019 ¦ All Rights Reserved by Compass ¦ Made in NYC
Compass is a licensed real estate broker (01991628) in the State of California and abides
by Equal Housing Opportunity laws. All material presented herein is intended for informational
purposes only. Information is compiled from sources deemed reliable but is subject to errors,
omissions, changes in price, condition, sale, or withdraw without notice. No statement is made
as to accuracy of any description. All measurements and square footages are approximate. Exact
dimensions can be obtained by retaining the services of an architect or engineer. This is not
intended to solicit property already listed
---
Here's an interesting article that covers housing trends in the Bay Area, Boomers and Millenials and the job market. A lot was covered so read on…
The Bay Area economy is firing on all cylinders, but there's still plenty to worry about.
Talk of a possible Bay Area housing bust triggered by a tech slowdown or how the national economy will be affected by the next president's trade policies were among the concerns raised by top economists speaking Thursday at the San Francisco Chamber of Commerce's annual ForecastSF breakfast program.
Perhaps the city's business leaders were setting the stage for San Francisco Mayor Ed Lee's announcement later in the day that he was calling for the city's first-ever "economic resiliency plan."
In a region known for its boom-and-bust economic cycles, the mayor's calling on the Office of Economic and Workforce Development to create a plan that will advise the city on "how to prepare for a future economic downturn."
"The Economic Resiliency Plan reflects our commitment to the people of San Francisco to have an action plan in place to address any potential downturn in the city's economy," said Todd Rufo, director of the Office of Economic and Workforce Development.
The mayor is calling on his economic development team "to plan ahead and explore ideas on how to keep the city's economic engine and workforce steady during challenging economic times."
At least the mayor might score some points for forethought and ambition. One UCLA economist said last January that San Francisco could be the epicenter of the nation's next recession. However, the UCLA Anderson Forecast, released this week, sees California's economy continuing to grow at a steady rate and generate high levels of employment over the next two years.
At the chamber's ForecastSF breakfast, housing and demographics were sources of concern.
San Jose and San Francisco top the list of least affordable U.S. cities for housing, according to Visa's Chief Economist Wayne Best. In a handout Best shared with his audience, he called the two cities, along with Santa Cruz, as "severely unaffordable." Those hoping to buy in markets considered just "moderately unaffordable" are advised to check out Vallejo, Modesto or Yuba City.
Source: BizJournals
---
---
6601 Elverton Drive
Oakland, CA 94611
Offered at $1,875,000
For more information about this property or a referral to other areas of Northern California, please contact me.
---
---
---
For the third consecutive year, San Francisco takes the prize as Zillow's top US city for trick-or-treating. To help identify locations that could potentially dish out the most candy and present the least amount of safety and walking concerns, Zillow determines their rankings based on four categories of equal value: the Zillow Home Value Index, population density, Walk Score, and local crime data from Relocation Essentials.
Other California cities that land in the top 20 are San Jose (#4) and Los Angeles (#6) each moving up a spot from last year, as well as San Diego (#12).
Curious which part of town takes the crown? Zillow also includes in their rankings the top five neighborhoods per city. San Francisco's may surprise you:
#5- Glen Park
#4- Presidio Heights
#3- Cow Hollow
#2- Sea Cliff
#1- Noe Valley
Zillow's ranking is, of course, just one way of looking at it. We've gotten feedback that lists Cole Valley, St. Francis Wood, and West Portal as tried and true. We'd love to hear more – chime in with your pick!
http://www.parascopesf.com/san-francisco-ranked-americas-top-city-for-trick-or-treating/
---